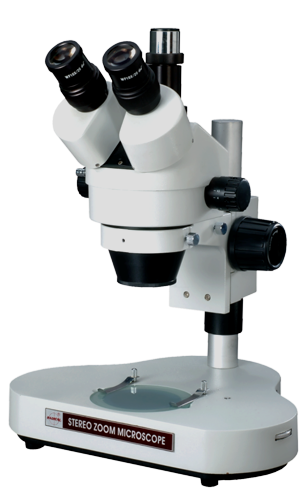 Trinocular Stereo Zoom Microscope
Product Description
Trinocular Stereo Zoom Microscope
Trinocular tube with an inclination of 45° for greater ease of observation.
Magnification :- 7x to 45x or 6.5x to 45
Zooming ratio :- 6.4:1 or 1:6.7
Wide field eyepiece :- 10x (paired).
Objective :- 0.7x to 4.5x or 0.65 to 4.5x
Rack-Pinion focussing stroke :- 50 mm.
Crisp,erect images with high resolution and excellent stereoscopic effect. Standard working distance 100mm, regardless of magnification.
Field of view 28.6-4.4 mm. Interpupillary distance from 54 to 75 mm.
Dioptic adjustment with a range of + 5 diopters is possible with both oculars. Trinocular body can be rotated a full 360° and locked in any position desired. Once brought in focus, image remains clear and sharp throughout the whole zoom range. Dual illumination system having circular fluorescent incident light and transmitted light through solid state built-in transformer halogen bulb 6volts 20watts.Packed in cardboard box with operation manual, vinyl cover etc.For Zoom Ratio 1:7.5
Trade Information
ISO 9001, 10002, 13485,14001 & CE Certification