Jewellery Making Microscope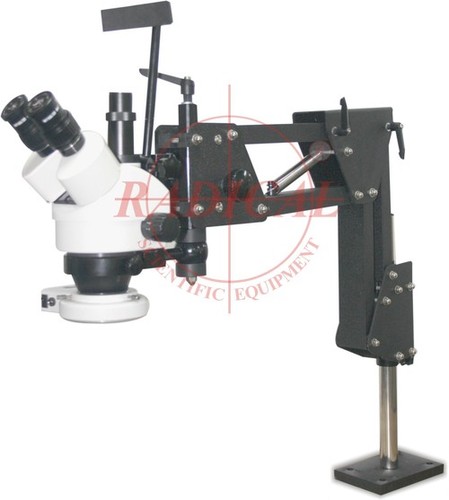 Jewellery Making Microscope
Product Description
Jewellry Making Microscope is specially designed for gem, diamond and precious stone setting and engraving applications. Jewellery is a professional Jewellers stereo microscope. Complete with boom stand and headrest. The boom stand allows for exact adjustment vertical, horizontal and back-forth / sideways. Different stands give you maximum freedom of movement for example a flex-arm stand offers highest flexibility while a table clamp needs minimum table space. Large working distances offer enough room to handle tools easily under the microscope. The optical design gives you a high depth of field so that more of your work piece is in focus and you can save time because little refocusing is necessary.
Technical Details of Jewellry Making Microscope
Trinocular tube with an inclination of 45 for greater ease of observation.
Magnification 7x to 45x.
Microscope Zooming ratio 6.4 : 1
Rack-Pinion focussing stroke 50 mm.
Wide field eyepiece 10x (Paired).
Objective 0.7x, 4.5x.
Crisp, erect images with high resolution and excellent stereoscopic effect.
Standard Working distance 100 mm, regardless of magnification.
Field of view 28.6 - 4.4mm.
Interpupillary distance from 54 to 75 mm.
Dioptic adjustment with a range of + 5 diopters is possible with both Oculars.
Jewellery Making Microscope having binocular body can be rotated a full 360 and locked in any position desired.
Once brought in focus, image remains clear and sharp throughout the whole zoom range.
Incident illumination through circular fluroscent ring light.