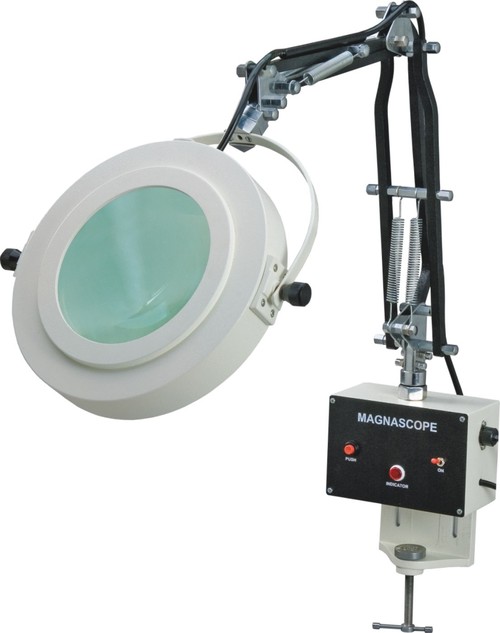 illuminated Magnifier
Product Description
illuminated Magnifier

Radical RBM Illuminated Magnifiers : are designed for specialized inspection requirements in the different industries under specific applications. These magnifiers have maximum magnification upto 7x, with the help of 2x auxillary lens. The magnification is without any chromatic or spherical aberrations over the entire field of view, providing perfect strain-free vision. The lens provides bi-ocular vision with depth perception and comfortable working distance underneath, thus providing easy operation under the lens.
Our Illuminated Magnifiers find use in :
Electronic Industries : To check plated through holes, components such as gang condensers, assemblies and soldering of components. It is particularly used for finding fine pitch component placement accuracy; quality of solders including bridges in reflowed solder, blow holes, checking of colour codes etc.
Engineering Industries : Checking surface finish, cracks/burr and viewing profiles. For precision assemblies such as in watches, meters, instruments. Detection of surface defects on finished jobs, cutting tool angles, bolts, etc.
Medical Applications : Widely used by Dermatologists for checking skin textures and skin examinations. Used by Dentists, Ophthalmologists, Plastic surgeons, Pediatric surgeons, Cosmetologists & Orthopedic surgeons.
Beauty Parlour Applications : Conducting thermolysis procedures for threading. Used to locate black heads, for checking skin disorders.
Quality Control & Inspection : Used in most of the industries in quality control & inspection depts. Service as a good inspection aid at different stages.