Gemological Microscope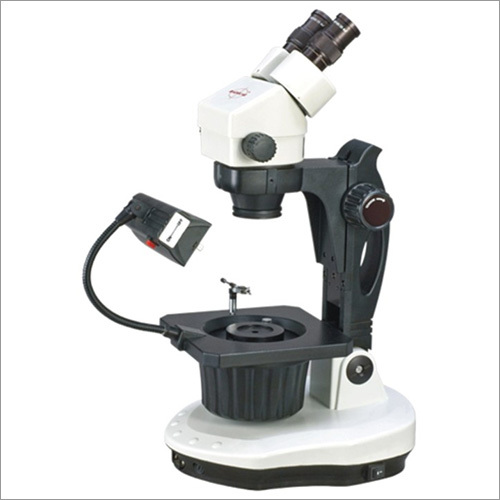 Gemological Microscope
Price And Quantity
Unit/Units,

65000.00 - 85000.00 INR
Product Specifications
Product Description
Gemological Microscope
The Gemological Microscope we deal in is usually used by jewelers, stone setters and gemologists. This has been specifically configured for its effective use in the industry for observing the evaluating several types as well as grades of precious stones. Gemological Microscope is functional as an advanced device. It makes effective use of high levels of zoom magnification. It has the capacity to reveal the most intricate details and ensures zero occurring of possible flaws that are overlooked many times.
Radical Gemological Swivel Binocular Microscope is used to distinguish between genuine and imitation gems, to inspect surface inclusions, to judge production of origin and to inspect polishing. It is also used to exhibit & explain to the customers at jewellery shop. Radical Microscope is provided with transmitted and flourescent incident light system. Radical Gemological Microscopes have earned the reputation for having excellent optics, rugged dependability, versatility & economy
Radical Gemological Microscope share a unique substage brightfield and darkfield illuminator, an adjustable epi-illuminator and a gem clamp for unsurpassed versatility in a wide range of scientific and industrial applications. In industry, the combination of incident and transmitted illumination afforded by these microscopes quickly locates both surface and hidden defects profile examination under darkfield illumination quickly shows up flaws, burrs and surface inclusions, brightly illuminated against a dark background. In geology, mineralogy and gemology, it clarifies the structure of crystals and aids in their positive identification. It is also invaluable for certain biological applications, such as examination of large embryological specimens, planktons, fungi or colonies, requiring the stereo microscope's great depth of field. The Model RGM-Series offer superior quality optics and reliable mechanical components. This exceptional optical quality allows users to perform tasks efficiently and maintain high productivity. A wide variety of stands and illuminators are available to suit various applications. These microscopes feature a zoom magnification from 7x to 45x, zoom ratio 6.4:1, with standard Eyepieces WF 10x/20. The images are sharp, clear, flat and have good resolution contrast even at periphery of field. Binocular Body inclined at 45, for fatigue free viewing, can be rotated a full 360 and locked in any position. Ergonomically positioned bilateral ocular tubes are interlocked for improved operation.
Model RGM-8
Specifications :-
Eyepiece (paired)

-

High-point eyepiece 10x with adjustment
Iris diaphragm

-

44mm - 3mm
Illuminator

-

Top light 7W fluorescent bulb. Bottom 6V/30W halogen bulb, both with adjustment of brightness
Jewellery Clamp

-

Steel wire & Plan jewellery clamp
Optional
Accessories

-

Auxiliary lens 0.75x, 1.5x and 2x. Widefield eyepieces WF 10x, WF15x and WF 20x. Polarizing Kit with polarizer and analyzer. Different stages, bases, graticules, softwares etc.
Product details
| | |
| --- | --- |
| Auxiliary Lens | 0.75x, 1.5x and 2x |
| Eyepiece | 10x |
| Iris Diaphragm | 44 mm - 3 mm |
| Is It Portable | Portable |