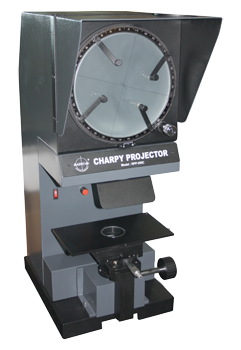 Charpy Projector RPP-250C
Product Description
TECHNICAL SPECIFICATIONS
Magnification: 50X (Standard)
Projection Screen: 250 mm. optical glass screen
Field of View: 5 mm in 50x magnification
X-Y-Z Displacement: 40 x 40 x 40 mm. table travel
Specimen Platform: Size 160 x 300mm(Interchangeable)
Cross Travel Stage: X-Y Table size 125 x 125 mm Travel upto 40x40 mm Micro-Head Standard 0-25mm L.C.0.01mm Rotary stage glass diameter 62 mm.
Illumination: Contour illuminator 24V/150W (Halogen) : A Green filter incorporated into the optical system, to reduce eye strain, improve contrast & eliminate any trace of residual chromatic aberration. The light source with halogen lamp offers increased contrast, extended life span and improved edge resolution. The lamp is cooled by turbine type silent fan.
Dimensions/Weight: Nett 55x35x86 cm / 38 Kgs. Gross 74x46x 94 cm / 80 kgs.
Optional Accessories: Digital Micrometers 0-25mm LC 0.001 mm., spare halogen bulbs, Objectives lenses 10x and 20x magnifications.
Trade Information
ISO 9001, 10002, 13485, 14001 & CE Certification