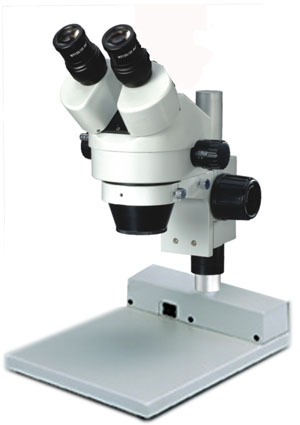 Binocular Stereo Microscope
Product Description
Binocular Stereo Zoom Microscope : We are engaged in offering reliable quality yet competitively priced a wide range of Binocular Stereo Zoom Microscopes for our prestige customers.
Binocular Stereo Zoom Microscope having tube with an inclination of 45 degree for greater ease of observation.
Magnification 7x to 45x
Microscope Zooming ratio 6.4 : 1
Rack-Pinion focussing stroke 50 mm.
Wide field eyepiece 10x (Paired).
Objective 0.7x to 4.5x
Crisp, erect images with high resolution and excellent stereoscopic effect.
Standard Working distance 100 mm, regardless of magnification.
Field of view 28.6 - 4.4mm.
Interpupillary distance from 54 to 75 mm.
Dioptic adjustment with a range of + 5 diopters is possible with both Oculars.
Binocular body can be rotated a full 360 degree and locked in any position desired.
Illumination system having incidnet flouorescent ring light.